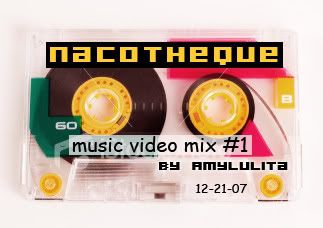 Music Video Mix 1
by Amylulita
For those of you who were at the Mexican Curious fiesta in Mexico, DF, these are a selection of songs from my setlist in video form.
Para todos que estaban en la fiesta Mexican Curious en el DF, éstos son algunas canciones de mi setlist en la forma de video.
A lot of the music we DJ at Nacotheque is generally new to be herd in a nightclub and even more rare to see it on Music Video TV shows like MTV or Fuse. With that in mind, I thought I'd share these with you all:)
Mucha de la música que pinchamos en Nacotheque somos generalmente nuevos para oir en un nightclub y aún más raro verlo en una programa de Music Vídeos como MTV o Fuse. Por Eso, quisiera compartir éstas canciones con ustedes:)
Enjoy!!!
xo Amylulita

Nancy's Rubias - Maquillate (Madrid, Spain)


Paralisis Permanente - Autosuficiencia (Madrid, Spain)


Radio Futura - enamorado de la moda juvenil (Bilbao, Spain)


Panico - Transpiralo (Santiago, Chile)


Manta Raya - Chula (Argentina)


Lulu Jam! - Si Quiero Lo Doy (Santiago, Chile)


Todosantos - OMG We Got It (Venezuela/NYC)


Cansei De Ser Sexy - Superafim (Brazil)


Baba - El Patio De Mi Casa (Barceona, Spain)


Glamour To Kill - Shake (Berlin, Germany)...Luis Miguelez...


Lorena C - Tu Recuerdo - (Barcelona, Spain)


Alaska - Mi Novio Es Un Zombie (Madrid, Spain)


Miranda - Don (Argentina)


Easy Snap - Winona Ryder (Barcelona, Spain)


Superputa - Nintendo (Madrid, Spain)