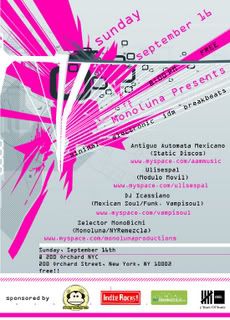 September 16, 2007 8:00 PM.
Finally, a FREE Mexican Independence Day celebration without mariachis, discursos patrioteros oficiales, or Mexican-curios simulations! And you can be sure that we won't be tuning in to see fraudulent Pelele Calderon perform "el grito" on TV. Instead, Monoluna will be hosting a night of minimal-tech, idm, breakbeats, Mexican funk and soul, and whatever else we think of at one of our favorite venues in the city—200 Orchard!
Who Will Perform:
Antiguo Automata Mexicano
AAM recently released the full length album Kraut Slut on Tijuana based label Static Discos. Pitchfork has described this album as: "an evocative sampling of the potential of computer-based minimalism with a handful of fantastic tracks". The Australian magazine Cyclic Defrost refers to AAM as "a warm mix of bubbling minimal techno and spacious ambient electronics with just enough quirk, pops and crackles to sit somewhere between the dancefloor and headphone earspace".
+
Ulisespal
Born in Buenos Aires and based in New York, German Palacio is an electronic musician, video and multimedia artist with a free spirit and plenty of projects. One of these is the—mostly solo—venture called Ulisespal, and its sound is warm and textured with a cinematic quality, subtle hints of humor, and dance-floor-ready beats.
DJ Icassiano
DJ Icassiano from Vampisoul Records aka as Carlos Icaza, plays drums with AAM and also forms part of the bands Seekers Who Are Lovers, Evil Hippie and Los Fancy Free...among others (busy guy) As Icassiano, he spins a mix of Mexican funk, soul, and rare grooves.
Selector Monobichi
The Mono in Monoluna…probably mixing some minimal stuff and some electro with other sounds in between. Strictly non-pro...
Isseluna
The Luna in Monoluna will be hosting the event and making sure no one gets out of line.
The Place:
200 Orchard is simply a great bar! Specializing in all things electronic, alternative Rock & Roll, Electro and Punk, these guys have decided to maintain the Lower East Side flavor, which is why they do not like to charge covers. The staff is great and they pour best pint of Guinness on the Lower East Side! Get there a bit before the party and take advantage of their Daily Happy Hour Specials, which go on until 8pm.
*****
Also, we might have a few surprises courtesy of one of the best Spanish language magazines dedicated to independent music, Mexico City based
Indie-Rocks, the little Tijuana label that could Static Discos and the website we all depend on for information on arts, music, culture, food, and entertainment, NYremezcla !
..Mexicanos al grito de...